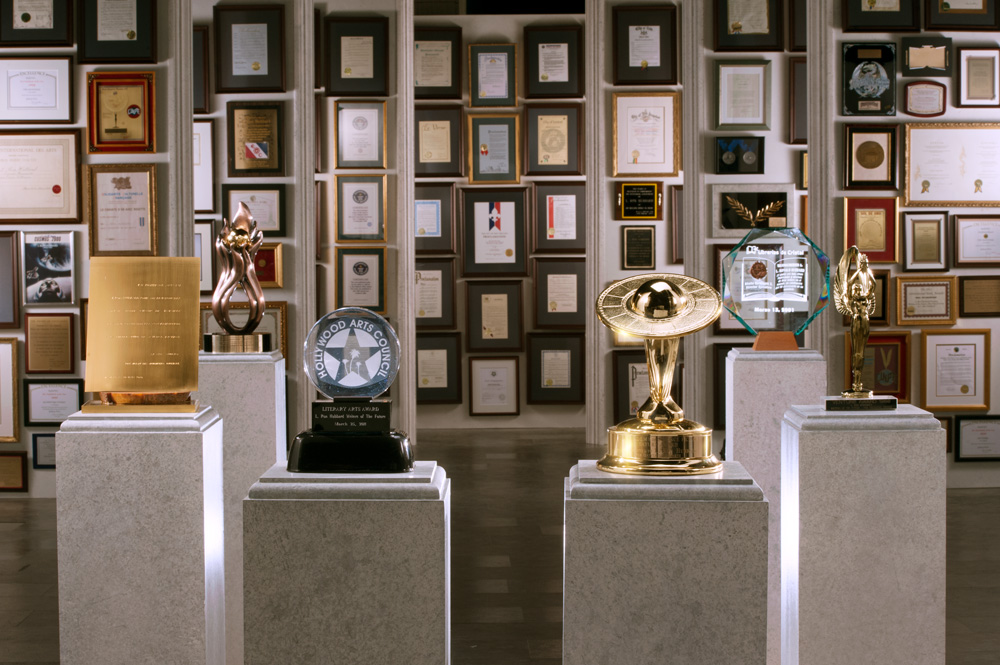 L. Ron Hubbard stands as among the world's most enduring and widely read authors with over 350 million works in circulation, including international sales of some 50 million works of fiction.
In testament to the magnitude of his literary oeuvre and legacy, there are his four Guinness World Records: most published author, most translated author, the author with the most audiobook titles and the single most translated non-religious work.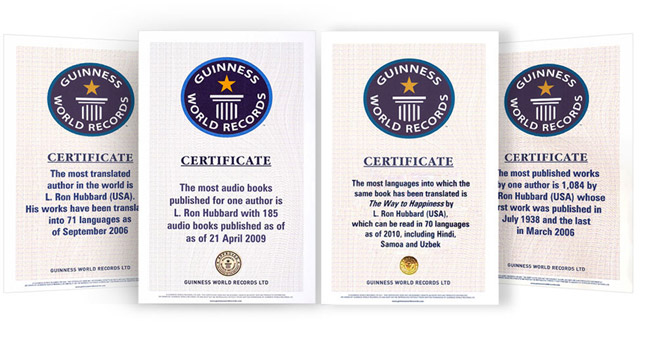 While within even one genre—science fiction—L. Ron Hubbard's stamp is both indelible and unmistakable. Consider, for example, his Battlefield Earth: A Saga of the Year 3000. Described by science fiction legend A. E. van Vogt as an unqualified masterpiece, the 428,750-word epic was not only a sensational international bestseller, but the recipient of numerous international literary awards.
In addition to both the Academy of Science Fiction's Saturn Award and a special Gutenberg Award as an exceptional contribution to the genre, the work has earned Italy's Tetradramma D'Oro Award in recognition of the story's inherent message of peace. It has since been published in scores of nations, translated into dozens of languages and serves as a model work in several colleges and universities.
And while Battlefield Earth marked Mr. Hubbard's monumental return to fiction after an absence of thirty years, his 1.2 million word, ten-volume Mission Earth series is rightly considered as his magnum opus. A biting satire, it has not only drawn comparison to the likes of Jonathan Swift, but stands as a publishing phenomenon, with no less than seven volumes riding the bestselling hardcover lists at one time. Given its massive impact, Mission Earth was also the recipient of numerous literary awards, including France's coveted Cosmos 2000 Award and Italy's Nova Science Fiction Award. (Mr. Hubbard, incidentally, was the first non-Italian to receive the Nova.)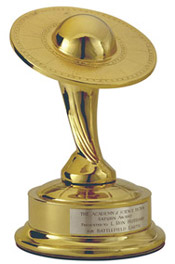 Saturn Award—Academy of Science Fiction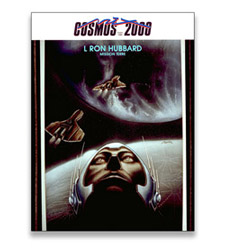 Cosmos 2000 Award—French-Speaking Readers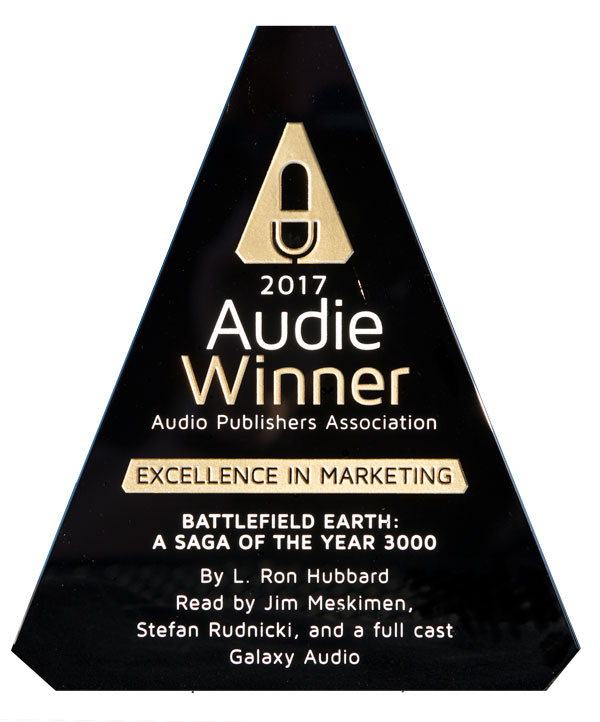 Audie Winner Award—Audio Publishers Association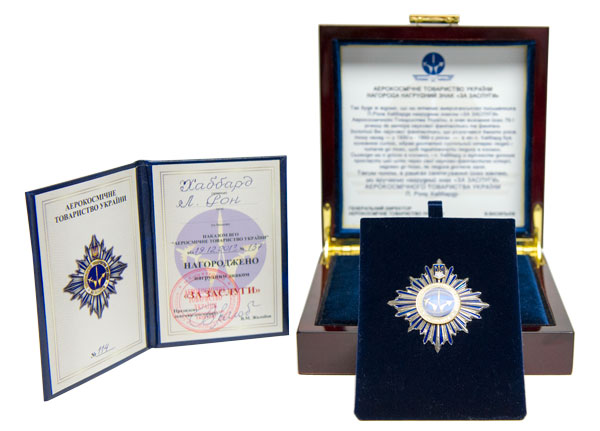 Star Order of the Aerospace Society of Ukraine—Aerospace Society of Ukraine
There is likewise all that Mr. Hubbard gave back as a ceaseless lobbyist on behalf of new writers—from his instructional articles for the aspiring author to his Writers of the Future Contest, now recognized as the most respected and significant forum for new talent in the field of speculative fiction.
And considering L. Ron Hubbard's fifty-year career—from the heyday of the Golden Age of Fiction to his monumental return to fiction in the 1980s—it comes as no surprise that the National Federation of French Culture presented him with La Cravate d'Or avec Rosette, for outstanding achievements in the fields of the arts, sciences and literature. No less significant is his Laurier d'Or from the Comité Prestige d'Europe, in acknowledgment of his literary contributions and betterment of the French culture.
Moreover, and as one of the most acclaimed writers of this or any age, L. Ron Hubbard rightfully received the Writer of the Century Award from Mondadori Press, for the assistance his books have given to Mankind.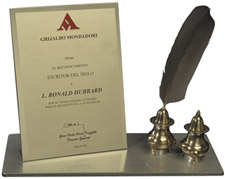 Writer of the Century Award—Mondadori Press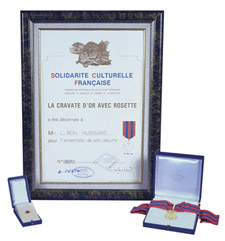 La Cravate d'Or avec Rosette—National Federation of French Culture
FURTHER SELECTION OF AWARDS & RECOGNITIONS
Presented below is a brief selection from the many awards and accolades L. Ron Hubbard received for his life's work in the arts and letters: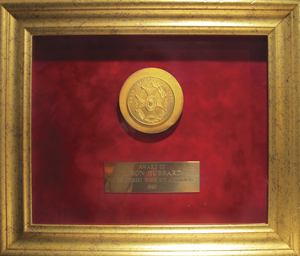 Gold Medal—Academy of Arts, Sciences & Letters, Paris, France: Presented to L. Ron Hubbard for the complete body of his literary works and achievements.
Official Acknowledgment—United Nations Society of Writers: In recognition of L. Ron Hubbard as a great science fiction writer of the twentieth century.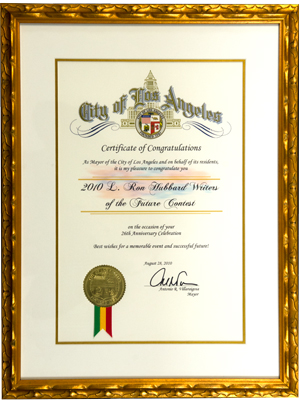 Resolution—City of Los Angeles: Presented to L. Ron Hubbard's Writers of the Future Contest for achievements in the arts.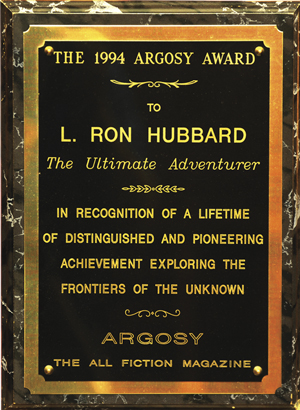 Argosy Award—Argosy Magazine: Bestowed upon Mr. Hubbard for a lifetime of achievement in the field of fiction.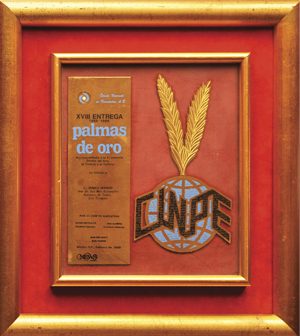 Palmas de Oro Award—National Association of Journalists, Mexico: Presented to L. Ron Hubbard "in recognition of excellence in the fields of art, science, human communication and culture."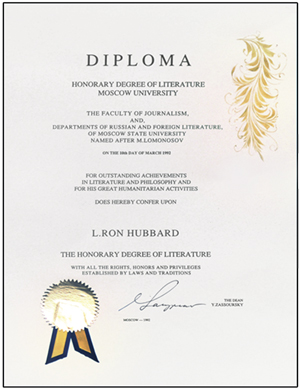 Honorary Doctorate of Literature—Moscow State University: Bestowed upon Mr. Hubbard by the Faculty of Journalism and Dept. of Russian Foreign Literature for "outstanding achievements in literature and philosophy and for his great humanitarian activities."
Honorary Plaque—Brigham Young University Symposium of Science Fiction & Fantasy: In honor of L. Ron Hubbard's invaluable contribution to the arts through the Writers and Illustrators of the Future programs.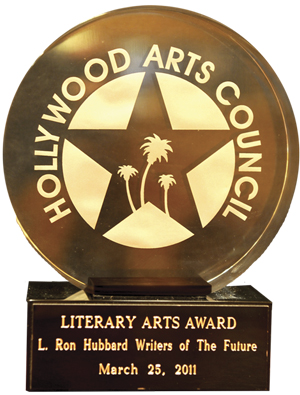 Literary Arts Award: Awarded by the Hollywood Arts Council in honor of L. Ron Hubbard's contribution in the literary arts.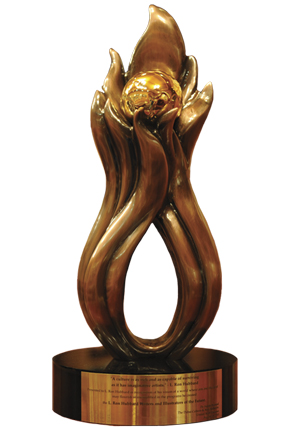 Dubai Culture & Arts Authority Award: Presented on behalf of the Dubai Culture & Arts Authority in recognition of Mr. Hubbard's vision of a world where arts and the artist may flourish.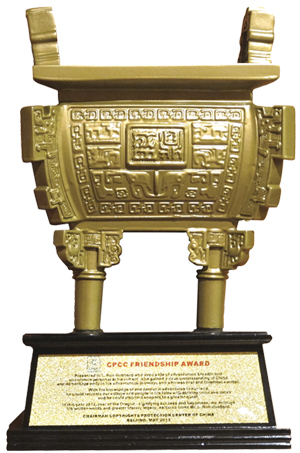 Friendship Award: Presented by the Chairman of the China Copyrights Protection Center of China in celebration of the return of L. Ron Hubbard to China in the form of his literary works.